Chamber Vacuum Sealer
Main Features

The vacuum chamber packaging machine and vacuum packaging machine removes the air from a package at the same time of sealing it. The packaging machine thus protects the packed products to ensure extended storage life.
Vacuum bags or barrier pouches are commonly used by the vacuum chamber packaging machine and vacuum packaging machine.
The barrier bags provide a barrier against the atmosphere and moisture.
The bags are placed in the chamber of the vacuum packaging machine, which seals the package when a certain amount of air is extracted from the vacuum bag. The vacuum chamber packaging machine is made of stainless steel and available in a variety of sizes and configurations, the option of gas flushing kits, e,g.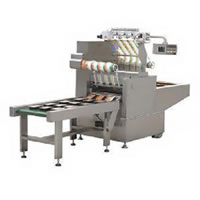 Trayseales
Main Features

The modified atmosphere packaging machine adopts mechanical, electric and pneumatic combined control, with reliable performance and low failure rate. It comes with programmable controller, i.e. PLC touch screen, which provides man-machine interface and makes it easy to set parameters.
The modified atmosphere packaging machine offers high automation and high qualification rate.
All components of the packaging machine are made of stainless steel to ensure food safety and sanitation. This is compliant with food machinery standards GB 16798-1997.
The moulds are customized according to the shapes of packing boxes and have a wide application scope.
The gases are mixed proportionally to meet standards of food preservation.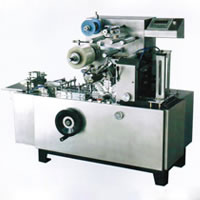 Three Dimensional Packer
Application
The three dimensional packaging machine is typically applied to the single piece transparent film (paper) automatic packaging of various boxed products in many fields, including medicine, medicinal oil, food, health care products, cosmetics, commodities, stationery and office supplies, poker, safety guards and cigarettes, etc. with 10pcs or more wide boxes.
Main Features
The three dimensional packaging machine has the easy-pull line stuck in the finished packaging products. It offers anti-falsification, moisture and dust resistance, while improving added value of products, product grade and decoration. The packaging machine makes use of PLC touch screen and frequency converter, providing stable operation, high speed, and firm, neat seal.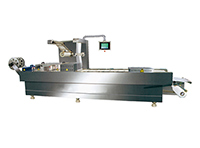 Thermoformer/Thermoforming Machine
Main Features

Equipped with OMRON PLC, touch screen and Panasonic servo motor, the packaging equipment offers reliable performance and easy operation.
The moulds in modular structure design ensure easy replaceability, which enables the machine to be used for multiple purposes.
Also, the modular moulds can be used on several machines, and are available with a cooling system. Made of aluminum alloy materials, they feature increased corrosion resistance and wearing resistance after hardening treatment.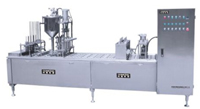 Automatic Cup Filler
Applications
RZ-D automatic plastic cup filling and sealing machine is mainly provided for filling those pre-made plastic cups of all shapes including round cups, square cups, triangle cups, etc. with liquid and paste such as pure milk, acidophilus milk, milk beverage, soybean milk, juice, ice cream, seasoning and daily chemical. It is also suitable to do the filling work for the soft granule with less than 8mm size.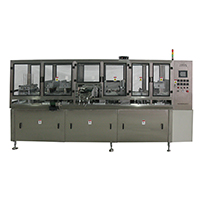 Can Seamer
Features

The can seamer integrates various process flows to realize full automation.
It comes with touch screen installed with PLC system.
A temperature controller is designed for the automatic open top can sealer to regulate and display the temperature.
Efficiently, the can seaming machine has the productivity up to 200 cans per hour.
In addition to the high productivity, the can sealing machine enables tight sealing by virtue of the high pressure, low temperature and the short pressure holdup time.
Automatic open top can sealer with embossing function is available from us if required by customers.
Other Packaging Machine
A packaging machine is used to pack products for protection or decoration. The packaging production line, such as liquid and thick liquid filling machine, pillow type packaging machine, granule packing machine and powder packing machine, etc. accomplishes filling, sealing, coding in a continuous flow. There are also other packaging machine, which includes filling machine, sealing machine, vacuum packaging machine, and more.
RezPack, as a leading Chinese packaging machine manufacturer, provides vacuum packaging machine, modified atmosphere packaging machine and three dimensional packaging machine.
The vacuum packaging machine works by automatically extracting the air inside bags to a certain vacuum degree before sealing. Nitrogen or other mixed gas can also be charged before sealing the bags. The vacuum packing equipment, typically used in food industry, improves oxidation resistance of food and thus extends the storage life.
The modified atmosphere packaging machine functions by displacing the air inside bags with protective mixed gas of CO2, N2 and O2. Through modified atmosphere packaging, the machine can suppress growth and reproduction of most microorganisms that may cause food spoilage. In this way, the modified atmosphere packaging machine keeps packed food fresh and ensures long shelf life of food. The modified atmosphere packaging machine is widely applicable to meats, cooked meat products, fish, fruit, coffee, tea leaves, vegetables, bread, and other food found in supermarkets.
The three dimensional packaging machine packs products by use of BOPP or PVC materials. It is extensively used for packing cosmetics, medicines, food, health care products, audio-visual products, stationery, daily commodities, and other three-dimensional skin packaging.
RezPack is involved in the production and sale of a wide variety of packaging machinery, such as pre-made pouch packing machinery, vertical packaging machine, pillow type packaging machine, and more. As RezPack manufacture strictly in accordance with ISO9001 standards, its products are high quality, CE certified. Today, RezPack packaging machine is well received in both the domestic and overseas markets.